Overview
The Island Health Community Wellness Granting Program provides opportunities to create local partnerships to address the health and wellness of the population. As the value of health promotion and education for illness/injury prevention is becoming more widely recognized, we want to continue to work with our community partners to positively influence people and community well-being, and promote health together.
Island Health recognizes the importance of reducing future reliance on the health system and promoting healthy lifestyles. We want to partner with local government, non-profit community organizations and aboriginal communities to improve the social determinants of health across Island Health. We want to enhance existing community resources, systems and networks that can positively influence health outcomes and make healthy choices easier for all people living in Island Health.
Our Community Wellness Granting Program is available to local government, aboriginal and community non-profit organizations doing work related to population health and health and wellness. This funding is not intended for initiatives/ projects directly related to primary or acute patient care, chronic disease management, access to care, or coordination of services for those requiring care.
"Island Health is very proud of our commitment to partner with local non-profit organizations to improve the health of our population through our community wellness granting program. As we near the end of the first year of the program there are many wonderful examples of how these grants have helped improve the health and quality of life of many people, particularly seniors, children and those dealing with mental health and addiction issues. Benjamin Franklin said "an ounce of prevention is worth a pound of cure" and this remains true today. We believe that investing in keeping people healthy is money well spent."
-- Kathy MacNeil, President & CEO, Island Health
Criteria
Applications for Community Wellness Grants should be based on one or more of the following criteria:
Healthy Aging
Positive Mental Health
Social Connectedness/Family Connectedness (healthy early childhood development)
Healthy Eating
Physical Activity
Please note that the criteria for the 2019/20 grants may change. This will be updated when the timeline and funding are confirmed.
Funding
For the 2018/19 fiscal year Island Health has up to $800,000 in funding available. Funding is intended for the development and establishment of new programs/initiatives. It is not intended for long-term, on-going funding and it may not be used to purchase capital equipment.
Regional Representation
A maximum of $150,000 will be awarded to projects in each of the four geographic areas within Island Health's organizational structure: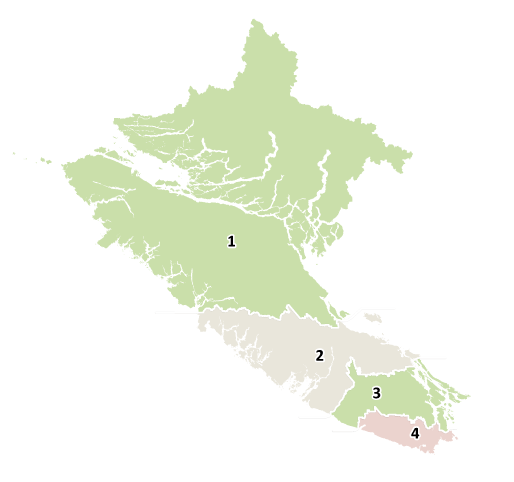 Geography 1
Campbell River
Comox
Courtney
Mt. Waddington
Strathcona
Geography 2
Port Alberni
West Coast
Nanaimo
Oceanside
Geography 3
Cowichan Valley
Saanich
Gulf Islands
Geography 4
Victoria
Sooke
West Shore
Individual Program Grants
Individual/small grant funding is a maximum of $12,000.
Partnership Grants
In an effort to encourage partnerships and collaboration, up to $200,000 has been allocated for projects that are multi-jurisdictional/multi-agency. (Minimum of three organizations) These organizations/communities should have a population health plan and identified population priorities and demonstrate a willingness to collaborate on initiatives with a bigger population impact. Partnership grant applications can be a maximum of $50,000.
Photos
Videos
News & Articles
Check out this article about Community Wellness Grants in the Spring 2018 issue of Island Health Magazine.
Grant Recipients 2018
Geo 1 – Total Awards $154,135
Individual Program Grants
Cheslakees Elementary School (Port McNeill)
Growing Food and Families Together
Lake Trail Community Education Society (Courtenay)
Back to School for Seniors Drop-In
Village of Cumberland
Creating Community Connections
Hornby Island Farmland Trust Society
Farris Community Farm Expansion Project
Town of Comox Recreation
Drop-in Sports Program
Village of Gold River
Seniors Cardio Plus
Cortes Community Health Association with the Cortes Community Radio Society
Youth Voices! Empowerment Radio Camp
Homalco First Nation
Punemenaye
LUSH Valley Food Action Society (Courtenay)
Share the Harvest - Vegetable Gleaning, Recovery and Redistribution Project
River City Cycle Club (Campbell River)
Vancouver Island Fall Bike to Work & School Weeks
Sacred Wolf Friendship Centre (Port Hardy)
Dladlapola (Standing Together)
Komoks First Nation
Elder and Community Connectivity Through Cultural Practices
School District 72
Building Community Capacity
Geo 2 – Total Awards $144,437
Individual Program Grants
Spirit of the Canoe Society (Tofino)
Moving Forward
Forward House Community Society (Parksville)
Looking Forward to Giving Back
Canadian Mental Health Association, Port Alberni Branch
Mental Health First Aid
Vancouver Island Mental Health Society
Community Mental Health First Aid
City of Port Alberni, Parks, Recreation & Heritage
Youth Healthy Foods Program
Alberni Valley Transition Town Society, Cycle Alberni
Vancouver Island Fall Bike to Work & School Weeks
Vancouver Island University Foundation
The Centre for Community Outreach and Care Family Nights
City of Nanaimo
Vancouver Island Fall Bike to Work & School Weeks
Greater Nanaimo Cycling Coalition, Oceanside Chapter
Vancouver Island Fall Bike to Work & School Weeks
Mind Matters Nanaimo
Dementia Inclusive Communities – Capacity Building
Vancouver Island University
Recreation Prescription Project
Geo 3 – Total Awards $113,978
Individual Program Grants
Transition Salt Spring
Healthy School Gardens for the Gulf Islands
Beacon Community Services
Saanich Peninsula Rural Neighbourhood Chats Project
Pender Islands Health Care Society
Pender Island Community Kitchen Program
Victoria Sexual Assault Centre
Project Reclaim
Tsawout First Nation
ÃLISDÃL?EW (Good Medicine) Garden
Ladysmith Family and Friends Society
LaFFing and Learning Together
Cycle Cowichan
Vancouver Island Fall Bike to Work & School Weeks
Hiiye'yu Lelum Society
Four Pillars Aboriginal Youth Wellness Program
PLAY Cowichan
Multi Sport Initiative
Cowichan Tribes
Cowichan Tribes Young Women's and Young Men's Groups
Big Brothers Big Sisters of the Cowichan Valley
Go Girls! Group Mentoring
Geo 4 – Total Awards $137,279
Individual Program Grants
Greater Victoria Bike to Work Society
Greater Victoria Bike to Work Society
Saanich Volunteer Services Society
Food and Friends: Staying Healthy Program
Highlands Parks and Recreations Association Sponsoring the
Highlands Community Garden Committee
Highlands Community Garden Accessibility Project
Saanich Neighbourhood Place
Growing Together: Community Early Screening Project
Peers Victoria Resources Society
Trauma-Informed Peer Counselling Training for Sex Workers in Victoria
The Power of Hope Society
Across the Lines Weekend Camp
LifeCycles Project Society
Street Feast
GoByBikeBC Society (aka Bike to Work BC Society)
Vancouver Island Fall Bike to Work & School Weeks
Westshore Youth Pride Sponsored by Westshore Parks & Recreation
Vancouver Island Youth Resource
Sooke School District
Fostering Resiliency of Elementary School Aged Children in Sooke School District