Overview
The Island Health Community Wellness Granting Program provides opportunities to create local partnerships to address the health and wellness of the population. As the value of health promotion and education for illness/injury prevention is becoming more widely recognized, we want to continue to work with our community partners to positively influence people and community well-being, and promote health together.
Island Health recognizes the importance of reducing future reliance on the health system and promoting healthy lifestyles. We want to partner with local government, non-profit community organizations and aboriginal communities to improve the social determinants of health across Island Health. We want to enhance existing community resources, systems and networks that can positively influence health outcomes and make healthy choices easier for all people living in Island Health.
Our Community Wellness Granting Program is available to local government, aboriginal and community non-profit organizations doing work related to population health and health and wellness. This funding is not intended for initiatives/ projects directly related to primary or acute patient care, chronic disease management, access to care, or coordination of services for those requiring care.
"Island Health is very proud of our commitment to partner with local non-profit organizations to improve the health of our population through our community wellness granting program. As we near the end of the first year of the program there are many wonderful examples of how these grants have helped improve the health and quality of life of many people, particularly seniors, children and those dealing with mental health and addiction issues. Benjamin Franklin said "an ounce of prevention is worth a pound of cure" and this remains true today. We believe that investing in keeping people healthy is money well spent."
-- Kathy MacNeil, Interim President & CEO, Island Health
Criteria
Applications for Community Wellness Grants should be based on one or more of the following criteria:
Healthy Aging
Positive Mental Health
Social Connectedness/Family Connectedness (healthy early childhood development)
Healthy Eating
Physical Activity
Please note that the criteria for the 2019/20 grants may change. This will be updated when the timeline and funding are confirmed.
Funding
For the 2018/19 fiscal year Island Health has up to $800,000 in funding available. Funding is intended for the development and establishment of new programs/initiatives. It is not intended for long-term, on-going funding and it may not be used to purchase capital equipment.
Regional Representation
A maximum of $150,000 will be awarded to projects in each of the four geographic areas within Island Health's organizational structure: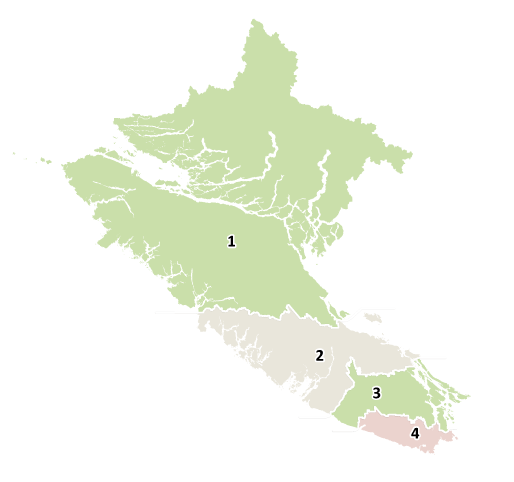 Geography 1
Campbell River
Comox
Courtney
Mt. Waddington
Strathcona
Geography 2
Port Alberni
West Coast
Nanaimo
Oceanside
Geography 3
Cowichan Valley
Saanich
Gulf Islands
Geography 4
Victoria
Sooke
West Shore
Individual Program Grants
Individual/small grant funding is a maximum of $12,000.
Partnership Grants
In an effort to encourage partnerships and collaboration, up to $200,000 has been allocated for projects that are multi-jurisdictional/multi-agency. (Minimum of three organizations) These organizations/communities should have a population health plan and identified population priorities and demonstrate a willingness to collaborate on initiatives with a bigger population impact. Partnership grant applications can be a maximum of $50,000.
How to Apply
To apply for funding please complete and submit an application form before midnight on Wednesday, February 7, 2018 *
*Please note that incomplete or late applications will not be accepted.
You will receive an email confirming the successful submission of your application.
Timeline
Deadline to apply: Wednesday, February 7, 2018 (midnight)
Applicants will be notified whether their application was approved by: Friday, March 23, 2018
Successful applicants will be required to sign a Service Grant Agreement and return it to Island Health before funds can be disbursed.
Grant Updates - Photos
Grant Updates - Articles
Mental Health First Aid on Quadra Island - a Quadra Circle success story.
Check out this article about Community Wellness Grants in the summer 2017 issue of Island Health Magazine.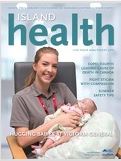 Grant Updates - Videos
Check back for updates on how these grants are making a difference in your community.
Grant Recipients 2017
Island Health has awarded 50 Community Wellness Grants to the following organizations across Vancouver Island. See the news release for more details.
GEO 1 - Total Awards $185,838
Individual Program Grants
Senior Citizens' Society (Port Hardy)
North Island Nino'gaad Health Conference
Hornby & Denman Community Health Care Society
Whole Foods for Whole Islands
Kwakiutl District Council Health (Campbell River)
Gathering Traditions
Mid Island Farmers Institute (Courtenay)
Vanier Community Garden Build
Port McNeill Kids in Motion
Port McNeill Kids in Motion Day Camp
Quadra Circle Community Connections Society
Mental Health First Aid on Quadra
SeaView E J S School (Port Alice)
Healthy Hungry Kids Programs
Woss Lake Recreation Commission
Woss Seniors Activity and Hot Lunch Program
Partnership Program Grants
School District 84 (Gold River, Tahsis, Zeballos and Kyuquot)
Building Early Years Resilience
The John Howard Society of North Island (Campbell River)
Supporting Youth Transitions
GEO 2 - Total Awards $195,077
Individual Program Grants
Bread of Life Centre (Port Alberni)
Weekend Wellness Project
City of Port Alberni Parks & Recreation
Indoor Recreation Opportunities for Active Agers
Clayoquot Biosphere Trust (Tofino)
West Coast Food Skills and Culture
Central VI Job Opportunities Building Society (Parksville)
Self-care for Job Seekers
District of Tofino
Tofino Walk for Life
Literacy Alberni
Nutrition and Literacy Program
Mount Arrowsmith Biosphere Region Research Institute
Snaw-Naw-As Garden of Spiritual Healing
Nanaimo Community Kitchens Society
Healthy Eating and Lifestyles for Newcomers to Canada
Port Alberni Minor Basketball Association (Port Alberni, Ucluelet, Tofino & Ahousaht)
Basketball without Barriers
Vancouver Island Regional Library (Nanaimo)
Celebrating Girls, Celebrating Community: Supporting Self-Expression and Storytelling Through the Creative Arts
Wickaninnish Community School Society (Tofino)
Intergenerational Skills Development: A Youth and Seniors Partnership
Partnership Program Grants
Nanaimo Food Share
Seniors Wellness - Eat, Laugh, Love (SWELL)
Regional District of Nanaimo in Partnership with Oceanside Health and Wellness Network
Promoting Health in Oceanside
GEO 3 - Total Awards $188,715
Individual Program Grants
Capital Regional District Panorama Recreation (North Saanich)
Physical Literacy Opportunities for Youth
Chemainus Community Schools Association
Food for Fun
Cowichan Family Caregivers Support Society Duncan
Circles of Support Project
Cowichan Green Community (Downtown Duncan)
Youth Outreach Garden Team
Cowichan Tribes (Duncan)
Kwam'Kwum'thun Shqwaluwun Children's Program
Cowichan Valley Intercultural and Immigrant Aid Society
Counselling Support for Refugees in the Cowichan Valley
Greenwoods Eldercare Society (Salt Spring Island)
Community Seniors Balance and Falls Prevention
Huli'tun Health Society (Chemainus)
Journey to Holistic Wellness
Pauquachin First Nation (North Saanich)
Pulling Together
Pender Islands Health Care Society
Pender Islands Wellness Program
Saturna Community Club
Active Living on Saturna Island
Tsartlip First Nation (Brentwood Bay)
Inspiring our Saanich Families to Grow Healthier
Partnership Program Grants
Community Social Planning Council of Greater Victoria (Geos 3 and 4)
Monitoring the Determinants of Health and Wellness in the Capital Region
GEO 4 - Total Awards $176,573
Individual Program Grants
Belmont Secondary School
Mindwell Mindfulness Program
Capital Region Food and Agriculture Initiatives Roundtable
Food is Medicine Community Wellness Project
Capital Region Food and Agriculture Initiatives Roundtable
Youth Food Action Community Wellness Initiative
Capital Regional District
Walk and Wheel to School Week
City of Victoria
Get Moving Victoria
Greater Victoria Bike to Work Society
Urban Biking Skills Program for Older Adults and Songhees Nation
Home is Where We Live - LifeCycles Project Society
Cultivating Community Health: Food Literacy Programming for Low-Income Community Members
Saanich Commonwealth Place
Caregiver Support/Recreation Program
Silver Threads Service
Finding the "Hidden Hungry" in Gordon Head
Songhees Garden and Growth Project
Songhees Garden and Growth Project
The Mustard Seed Street Church
Fresh and Unhampered: Rescuing Regional Food Insecurity
Victoria Immigrant & Refugee Centre Society
Health, wellness & food security program for newcomer women
Victoria Wheelchair Sports Club
Victoria Sledge Hockey Program
Partnership Program Grants
Burnside Gorge Community Association (Geos 3 and 4)
Building & Measuring Positive Connections for Children & Youth, An Index of Connectedness Project