Overview
Applications for 2022/2023 funding are now closed. Thank you for your interest!
Island Health's community wellness granting program provides the opportunity for not-for-profit organizations, local government organizations and Indigenous Nations, organizations and communities to apply for one-time funding for the development of new initiatives and programs. We know that the experts on what is needed to promote wellness in communities are the communities themselves. The community wellness grants program is designed to support collaborative community-led wellness interventions. The focus of this program is upstream wellness interventions that reduce barriers and increase supports, enabling all members of the community to enjoy health and wellness.
This funding is not intended for initiatives/projects directly related to primary or acute patient care, chronic disease management, access to care, or coordination of services for those requiring care.
Criteria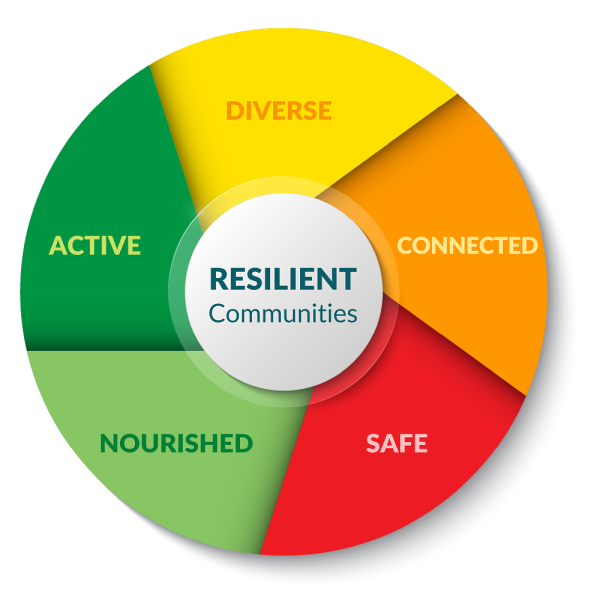 In the face of two provincial health emergencies, the COVID-19 pandemic and the ongoing drug poisoning crisis, the focus of the 2022/2023 funding cycle is community resilience, including connected, diverse, safe, active, and nourished communities. Projects must address one or more of the following community resilience criteria:
Funding
A total of up to $800,000 is available for individual/small grant funding. Individual grants will be awarded up to $12,000 each.
To encourage partnerships and collaboration, the remaining $200,000 is allocated for projects that are multi-jurisdictional/multi-agency and involve a minimum of three partner organizations.
Partnership grant applications will be awarded up to $50,000 each.
How to Apply
Applications for 2022/2023 funding are now closed. Should you have any questions about the program, please contact communitygrants@islandhealth.ca.
News & Articles
Grant Updates - Videos
Grant Updates - Photos
Check back for updates on how these grants are making a difference in your community.
Grant Recipients 2020
Geo 1 – Total Awards $130,589
Individual Program Grants
Hornby Island Farmland Trust Society
Share the Harvest
Town of Comox Recreation
Kindergym
Ka;'yu;'k't'h'/Che'k'tles7eth' First Nations
Kyuquot Youth Soccer
Hardy Bay Senior Citizens Society
Hardy Bay Senior's Garden Project
Denman Island Community Education Society
Denman School Food Program
Quatsino First Nation
New Land-Based Traditions/Language Revitalization Program
Strathcona Regional District
Partners in Care
Partnership Grants
Comox Valley Regional District
Regional Airshed Protection Project
Wachiay Friendship Centre
Qummunity Connections
---
Geo 2 – Total Awards $126,501
Individual Program Grants
Nanaimo Community Kitchens Society
Cooking Out of the Box in Schools
Maaqtusiis Elementary School
Maaqtusiis Elementary School Garden
Forward House Community Society
Moving Forward in Nanoose
Port Alberni Shelter Society
Shelter Farm – Incubator Program
Nanaimo School District #68
DancePl3y Program
Farm to School BC
School to Farm Impacting Community
Nanaimo Aboriginal Centre
NAC Early Years Mental Wellness
Tofino Community Food Initiative
From Seed-to-Table: Connecting our School Garden to the Community
Partnership Grants
Nanoose First Nation
Connection Medicine: Strengthening Ties to Land, Family and Community
---
Geo 3 – Total Awards $119,086
Individual Program Grants
Warmland Women's Support Services Society
Transformation Through Movement
Take a Hike Youth at Risk Foundation
Vancouver Island Take a Hike - Cowichan
Cowichan Green Community Foundation
Inclusive Farming
Human-Nature Counselling Society
Waves of Change
Capital Region Female Minor Hockey Association
Female Hockey Development and Referee Training
Stz'uminus First Nation
Family Connectedness for Wellbeing
Gulf Islands School District #64
Pilot Garden School at Salt Spring Elementary
Beacon Community Services
Mental Health Wellness Support Groups
Cowichan Valley Starfish Backpack Program
School is Out and the Food Ran Out
Partnership Grants
Salt Spring Health Advancement Network
Salt Spring Community Mental Wellness Initiative
---
Geo 4 – Total Awards $193,377
Individual Program Grants
Recovery Victoria
Growing Together
North Park Neighbourhood Association
North Park Needs Assessment
Pacific Institute for Sport Excellence
Embedded Professional Learning to Create Resilient Children Through Physical Literacy
Boys & Girls Club Services of Greater Victoria
Parenting Program Expansion to Sooke
Boys & Girls Club Services of Greater Victoria
Westshore Initiative for Food Security
Victoria Women's Transition House Society
Stride: Active Living for Senior Women
Junior Forest Wardens
Outdoor Safety for Families
The Hustlers' Art Collective Society
Community Art and Yoga Night
Capital Region Food and Agriculture Initiatives Roundtable
Food Security Connections
Home is Where We Live – Life Cycles Project Society
Seed the City
Inter-Cultural Association of Greater Victoria
A New Path: Forging Ahead for LGBTQ2+ Refugees
Aboriginal Coalition to End Homelessness Society
SPAKEN House Indigenous Plants and Medicine Garden
Fernwood Neighborhood Resources Group
Fresh Food for Life
Tsartlip Nation
Since Time Immemorial
Bike Victoria Society
All Aboard Family Cycling Program
Partnership Grants
Crisis Intervention and Public Information Society of Greater Victoria (dba NEED2 Suicide Prevention, Education and Support)
Text-based Follow-up