Overview
The Island Health Community Wellness Granting Program provides opportunities to create local partnerships to address the health and wellness of the population. As the value of health promotion and education for illness/injury prevention is becoming more widely recognized, we want to continue to work with our community partners to positively influence people and community well-being, and promote health together.
Island Health recognizes the importance of reducing future reliance on the health system and promoting healthy lifestyles. We want to partner with local government, non-profit community organizations and aboriginal communities to improve the social determinants of health across Island Health. We want to enhance existing community resources, systems and networks that can positively influence health outcomes and make healthy choices easier for all people living in Island Health.
"Our community connections are vital – together, we truly are stronger. Island Health is very proud of our commitment to support many diverse partnerships with local non-profit organizations to improve the health of our population through our Community Wellness Granting Program. We're excited by the innovative projects that will benefit so many people living within Island Health."
-- Kathy MacNeil, President & CEO, Island Health
Our Community Wellness Granting Program is available to local government, aboriginal and community non-profit organizations doing work related to population health and health and wellness. This funding is not intended for initiatives/ projects directly related to primary or acute patient care, chronic disease management, access to care, or coordination of services for those requiring care.
"By providing these funds, Island Health is acknowledging the powerful role of the social determinants of health. These grants have served, and will continue to serve, promoting and fostering ideas to advance health at the grassroots level. The Community Wellness Granting Program helps cement the critical relationship between Island Health and our communities in the pursuit of better and more fulfilling lives for all our citizens."
-- Dr. Richard Stanwick, Chief Medical Health Officer, Island Health
Criteria
Applications for Community Wellness Grants should be based on one or more of the following criteria:
Healthy Aging
Positive Mental Health
Social Connectedness/Family Connectedness (healthy early childhood development)
Healthy Eating
Physical Activity
Please note that the criteria for the 2020/21 grants may change. This is reviewed annually and will be updated when the next timeline and funding are confirmed.
Funding
For the 2019/20 fiscal year Island Health has up to $800,000 in funding available. Funding is intended for the development and establishment of new programs/initiatives. It is not intended for long-term, on-going funding and it may not be used to purchase capital equipment.
Regional Representation
A maximum of $150,000 will be awarded to individual/small grant projects in each of the four geographic areas within Island Health's organizational structure: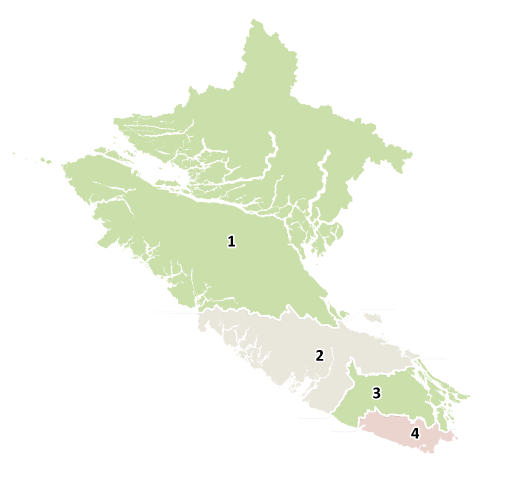 Geography 1
Campbell River
Comox
Courtney
Mt. Waddington
Strathcona
Geography 2
Port Alberni
West Coast
Nanaimo
Oceanside
Geography 3
Cowichan Valley
Saanich
Gulf Islands
Geography 4
Victoria
Sooke
West Shore
Individual Program Grants
Individual/small grant funding is a maximum of $12,000.
Partnership Grants
In an effort to encourage partnerships and collaboration, up to $200,000 has been allocated for projects that are multi-jurisdictional/multi-agency. (Minimum of three organizations) These organizations/communities should have a population health plan and identified population priorities and demonstrate a willingness to collaborate on initiatives with a bigger population impact. Partnership grant applications can be a maximum of $50,000.
Timeline
Please Note: The deadline for applications has now closed.
Deadline to apply: 4:30 pm on Wednesday, January 30, 2019
Applicants Notified: Wednesday, March 27, 2019
Please note: Successful applicants will be required to sign a Service Grant Agreement and return it to Island Health before funds can be disbursed.
News & Articles
Check out this article about Community Wellness Grants in the summer 2017 issue of Island Health Magazine.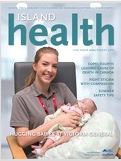 Grant Updates - Videos
Grant Updates - Photos
Check back for updates on how these grants are making a difference in your community.
Grant Recipients 2019
Geo 1 – Total Awards $183,421
Individual Program Grants
Cape Mudge Band
Youth Group Healthy Eating & Physical Fitness Program
Comox Valley Art Gallery
Arts-based and Arts-informed Cultural Mapping of the Opioid Crisis in the Comox Valley
Discovery Coast Greenways Land Trust (Campbell River)
Pilot Fruit Tree Project: Assessing Feasibility and Building Capacity for Promoting Healthy Eating
Georgia Park Elementary School (Campbell River)
Connecting Families Through Cooking
Indigenous Parents Advisory Club (IPAC) (Courtenay)
IPAC Winter Wellness Retreat
Laichwiltach Family Life Society
Urban Indigenous Housing Dialogue/s
LUSH Valley Food Action Society
Young Cooks – Traditional and Multicultural Focus
Ocean Grove School PAC (Campbell River)
Ocean Grove School Community Garden
Quatsino First Nation
Bringing Healing Home
Sayward Parents Advisory Committee PAC
Healthy Kids, Healthy Minds
Partnership Grants
Comox Valley Early Years Collaborative
25 by 25 Social Innovation Project
Kelsey Recreational Centre
Sayward Physical and Community Wellness Project
---
Geo 2 – Total Awards $198,806
Individual Program Grants
Alberni Drug and Alcohol Prevention Service
The Changing Gears Bike Club
Central Vancouver Island Job Opportunities Building Society
The Art of Job Search and Employment Sustainment
Dandelion Dance
Train the Trainer with First Nations
District 69 Society of Organized Services (SOS)
School Nite Out
Family Caregivers of BC Society in Partnership with Beacon Community Services
Caregiver Ambassador Project
Gabriola Dragon Boat Society
Healthy Aging & Community Through Dragon Boating
Haven Society
PEACE New Parent Education Sessions
Literacy Alberni Society
Senior Suppers
Mid-Island Youth & Community Development Cooperative
Food Art Fun
Mount Arrowsmith Biosphere Region Research
Snaw-naw-as First Nation Healthy Food Box Program
Pacific Rim Hospice Society
West Coast Seniors' Wellness
People for a Healthy Community
Community Kitchen Gabriola
School District 64 Gulf Islands
Resilience for All
Sea View Seniors Housing Society
Forest Glen Seniors Healthy Aging
Spirit of the Canoe Society
Seitcher Feast
Tsehaht First Nation
Strength of a Nation
Vancouver Island University
Shed Your Threads
Partnership Grants
Dandelion Dance
Train the Trainer
---
Geo 3 – Total Awards $198,623
Individual Program Grants
Beacon Community Services
Isolated Seniors Lunch and Learn
Cowichan Green Community
reFRESH Cowichan Coupon Program
Cowichan Hospice Society
Traumatic Loss Project
Ladysmith Resources Centre Association
Building Food Security in Ladysmith
Malahat Nation
Community Wellness Events
Nourish Cowichan Society
Past 0-4, Nourishing 4-18 Years in Our Community
Salt Spring Island and Southern Gulf Islands Community Services
Family Place Community Kitchen
Stz'umimus First Nation
Bringing Back Our Traditional Medicines
Warmland Women's Support Services Society
The Art of Wellness – Creatively Writing Our Recovery
Partnership Grants
Nourish Cowichan Society
Cooking with Penelakut & Nourish
---
Geo 4 – Total Awards $198,864
Individual Program Grants
Boys & Girls Club Services of Greater Victoria
Parenting Programs in Victoria and West Shore
Capital Region Food and Agriculture Initiatives Roundtable (Also covers the Saanich area of Geo 3)
Food is Medicine
Fernwood Neighbourhood Resource Centre
Parenting Outreach Program
Island Sexual Health Society
You're Doing What?! At Your Age?!
LifeCycles Project Society
Grow Together
Oaklands Community Association
Play in the Park
Oaklands Community Association
Parent & Baby Group
QCHAT Support Association
Peer Support Services for LGBTQ2S Youth
Sooke Region Communities Health Network Cooperative
Sooke Region Falls Prevention Sessions
Sooke School District #62
Enhancing Youth Food Literacy and Healthy Local School Food Systems
Society of Saint Vincent de Paul of Vancouver Island
Food Security Initiative
University of Victoria, Gustavson School of Business
Kidovate
Partnership Grants
Community Social Planning Council (Also covers the Saanich area of Geo 3)
Community Engagement on Determinants of Health and Wellness in the Capital Region
Edward Milne Community School
Youth Engagement Capacity Building for Sooke-West Shore
Esquimalt Youth Coalition
Esquimalt Youth Community Dinner