Overview
Island Health's community wellness granting program provides the opportunity for not-for-profit organizations, local government organizations and Indigenous Nations, organizations and communities to apply for one-time funding for the development of new initiatives and programs. We know that the experts on what is needed to promote wellness in communities are the communities themselves. The community wellness grants program is designed to support collaborative community-led wellness interventions. The focus of this program is upstream wellness interventions that reduce barriers and increase supports, enabling all members of the community to enjoy health and wellness. This funding is not intended for initiatives/projects directly related to primary or acute patient care, chronic disease management, access to care, or coordination of services for those requiring care.
Criteria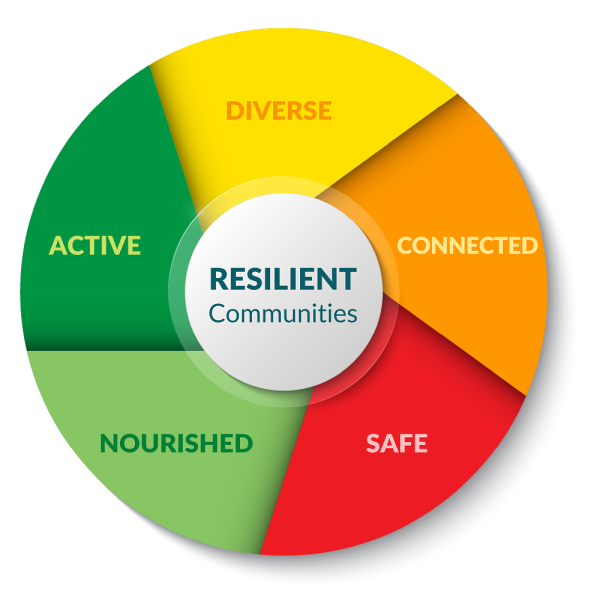 The focus of the 2023/2024 funding cycle is community resilience, including connected, diverse, safe, active, and nourished communities. Projects must address one or more of the following community resilience criteria:
Funding
A total of up to $600,000 is available for individual/small grant funding. Individual grants will be awarded up to $12,000 each.
To encourage partnerships and collaboration, the remaining $200,000 is allocated for projects that are multi-jurisdictional/multi-agency and involve a minimum of three partner organizations.
Partnership grant applications will be awarded up to $50,000 each.
All funds must be spent and project activities complete by April 30th, 2024th.
News & Articles
Grant Updates - Videos
Grant Updates - Photos
Check back for updates on how these grants are making a difference in your community.
Grant Recipients 2023
North Island
Campbell River & District Public Art Gallery
CRAG Art Hive - a community art studio for peers with lived experience
Comox Valley Family Services Association
Family Nutrition Project
Cortes Community Health Association
Connection, Creativity and Mentorship - Youth Program
Discovery Coast Greenways Land Trust
Zeballos Ehattis Good Food Box
Hardy Bay Senior Citizens Society
Garden upgrades and wellness
LUSH Valley Food Action Society
Youth in Food Systems
North Island Metis Association
Miitsho: Feeding Our Métis Youth
Robron Centre, SD72
Robron After School
Sointula Resource Centre Society
Community Pantry and Garden Market Stand
Denman Island Community Education Society
The Eyrie - Teen Support Space
Strathcona Regional District
Enhancing Social Capital Through Water Lifesaving Training and Education
U'mista Cultural Society
Ha'mi'ksila (cooking, preparing food)
---
Central Island
1st Cobble Hill Scout Group
New tents for Dry Scouts - Camping Opportunities for Youth
Cowichan Brain Injury Society
Project Leisure
Cowichan Family Caregivers Support Society
Caregiver Community Resource Library
Cowichan Green
Community Resiliency Project
Cowichan Social Planning Society
Poverty Challenge
Cowichan Valley Arts Council
Art Sharing Connections
Cowichan Women Against Violence Society
Healthy Relationships, Youth Summer Program
Gabriola Community Bus Foundation
GERTIE free rides project
Gabriola Health Care Foundation
MamaMood/PapaMood
Growing Opportunities Farm Community Co-op
Preserving for the Future
Ladysmith Resources Centre Association
Healthy Food for All
Nanaimo Association for Community Living
Club Wellness
Nanaimo Brain Injury Society
Getting to Tomorrow - Ending the Overdose Crisis - The Anti-Stigma Project
Nourish Cowichan Society
Growing Good Food for Healthy Kids
Qualicum First Nation
Eat and Learn!
Regional District of Nanaimo
Area A Youth Social
School District 68 Community Schools
Community Schools Programming
The Men's Centre
Male Domestic Violence Prevention Toolkit
Thetis Island Community Association
Let's Talk about Burning
Uchucklesaht Tribe Government
Uchucklesaht Community Garden
Volunteer Cowichan
Seniors Supported Volunteer Driving Program
Warmland Restorative Justice Society
Restorative Justice School Program
Warmland Women's Support Services Society
Calling Ourselves Home - Indigenous Outreach
Yuułuʔiłʔatḥ Government Ucluelet First Nation
Community Harm Reduction Project
---
South Island
BGC South Vancouver Island (previously Boys and Girls Club of Greater Victoria)
Fostering Fathering Connections
Canadian Earth Institute
Q'ushintul / Walking Together Peacemakers Gathering & Ancestor Walk
Edward Milne Community School Society
Community Cultural Kitchen
Home is Where We Live - LifeCycles Project Society
Active Outdoor Learning Project
Inter-Cultural Association of Greater Victoria
Bystander Intervention Training for Youth: Practical Anti-Racist Tools
James Bay United Church
James Bay Community Lunch
Saanich School District #63 - Saanich Schools
Connect-ED Community Wellness Partnership
Sooke Family Resource Society
Women's Support Groups
Sooke Region Communities Health Network
Increasing access to food in the Sooke Region
Take a Hike Youth Mental Health Foundation
Take a Hike Cowichan Program
The Chuan Community Arts Society
Gabriel's Kitchen
The Galiano Club
Good Food Box Galiano Pilot Project
Umbrella Society for Addictions and Mental Health
Umbrella Cooking Academy
Victoria Community Food Hub Society
Nourish: a Food Equity Project
Victoria Disability Resource Centre
Lived Experiences Around Disability (LEAD)
Victoria Native Friendship Centre
Nourish and Network
Victoria Women's Transition House Society
50+ Support Group Project
---